Hello there!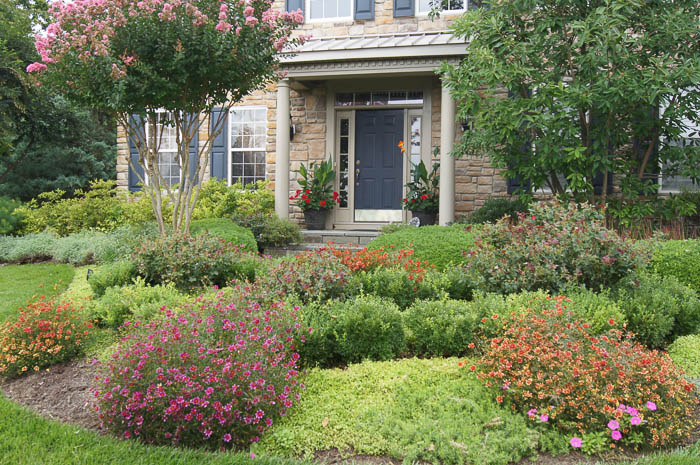 Native Plants & Less Weeds
It's that time of year again, which means I'm getting old since I feel like every year time goes faster and faster. I always envision myself being immortal and never getting old, but all that dirt (and sun, wind, heat, and cold) I expose myself to is not helping me look young :) For now, my body still works the way I need it to, and even though Scott threatens to trade me in for a younger unit, I just laugh at him and tell him that no girl pushes a wheelbarrow like I do (after I give him a good smack!). This is why I'm setting up my gardens for when I get really old. More plants equals less weeds so I'l have less maintenance when my body is not working quite as well.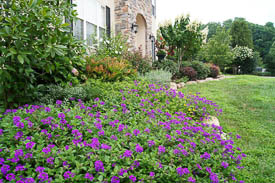 I know that I have been pushing native plants for the past few years, and I have now officially become obsessed with them. Since I have been switching out non native plants to native in my own garden, I have seen things that I never knew existed. There were so many different kinds of butterflies and caterpillars in my yard this past summer that I was amazed. This is something I want everyone to experience in their own yard, to have the garden show you something so satisfying after all the hard work, patience, and money spent. There's nothing like sitting down on the patio, in the garden, with a (big) glass of wine, and checking out what nature's doing.
Our Project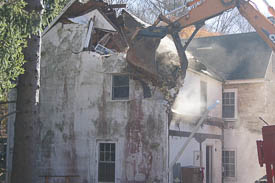 So, Scott and I have a big project going on at the house, and all I can say is I married well. We have a 200 year old farmhouse that had an addition put on 100 years ago without a foundation. Scott ripped that part down, and we're now in the process of rebuilding that section. He did the demo, foundation, refurbished 2 chimneys, built me a stone chimney for a wood burning stove, redid a patio and a walk, put in wood floors, beams, and wood ceilings, tiled the bathrooms, and repointed newly exposed stone. Oh, and then he cooked me dinner:) Scott can do pretty much anything, so let him know if you have a project that you would like to dive into.
How Winter Temperatures Affect Your Plants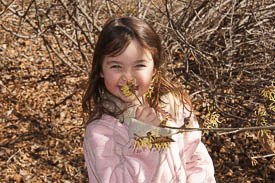 Meanwhile we've been living in a trailer all winter, so I've got some funny (and so NOT funny) trailer stories for you, so remind me to tell you some when I see you!
Since we've had a lot of temperature fluctuations this winter, be aware of perennials heaving. The ground freezes and thaws, which causes plants to move. This happens with new plantings since they don't have many roots to keep them stabilized. You can just step on the plant gently to push them back in. Also, if you have a lot of bulbs coming up, you can schedule an early March cleanup so things are looking good when they're blooming. It's also a time to think about where to add more color this time of year. Winter blooms seen from a window that you always look out will make you happy, I promise.
Damage from Sandy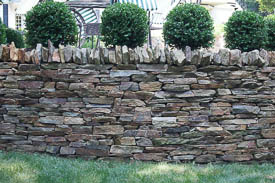 Hopefully most of you didn't have too much damage from Sandy, but let me know if there are trees or shrubs on your property that sustained damage so I can tend to them! I'll be on the lookout for damaged limbs that could be an issue, but most things are easily pruned and fixable.
Curb Appeal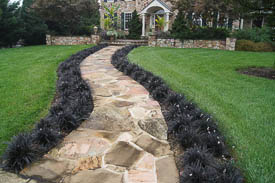 This is also a time to think about replacing old overgrown shrubs that have been failing for a few years, or that are blocking the front of the house. Plants that you don't have to fuss with, that give you seasonal interest, and offer a better view of the house. Even replacing a concrete walk with a natural slate or brick one will completely change how the space looks.
Low Maintenace Plantings
| | | |
| --- | --- | --- |
| | Even though I love low maintenance just like everyone else, I still like doing pots. I always do something different in them, although the past few years I've been focusing on using a lot of succulents. Gone for a weeks vacation? Don't worry, your succulents will be fine. They thrive in dry conditions, so you don't have to worry about them dying on the one day you didn't water them. Gone for a weeks vacation? Don't worry, your succulents will be fine. They thrive in dry conditions, so you don't have to worry about them dying on the one day you didn't water them. I know that if I have to water pots every day, there will always be that one day I will forget to water, and then I have a pathetic looking pot on my hands. I have a slight problem (addiction) when it comes to purchasing plants, but I don't like having to do something twice. | |
This year I'm going to start emailing suggestions for the garden at different times of the year. This way I can communicate to you all seasonally, more often, and I don't have to worry about who's not watering!!!
Hardscaping thoughts from Scott
As you know I am passionate about hardscaping. I try to put everything I have into making sure my projects stand out as beautiful, well built, and unique pieces of work. This past season I had the good fortune to work on a variety of fun projects that turned out really great. Thank you for that! One that I am especially proud of is a magnificent
(if I must say so myself) flagstone walk that blended formality with art. We put our heads together and designed a bluestone walk containing a compass rose inserted into a central hub in the walk. The combination of brown flagstone cut on site to form the compass which was set into the bluestone is striking, and makes for a one-of-a-kind front walk.
So if you have any wild ideas that you think might look good but are not sure if it can be pulled off, run it by me and I'm sure we can find a way to execute it. I can do many things with many different materials, and I love a challenge. Of course it almost goes without mentioning that traditional hardscaping projects are always on the menu, and I take much pride in a job well done. I'm happy when you're happy :)
I want to thank you for your continued trust and kindness. Please think of us when you are ready to make any improvements to outside areas at your home. And of course we are never too busy for your referrals.
Looking forward to spring and getting our hands dirty!
Kirsten & Scott