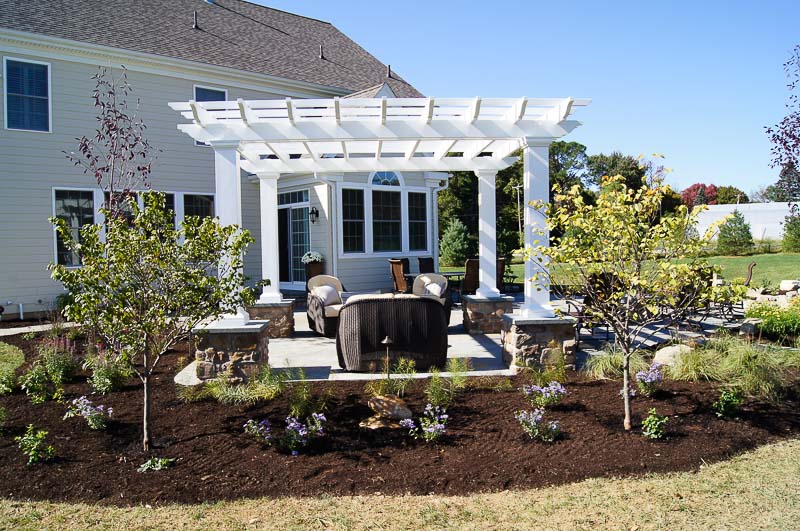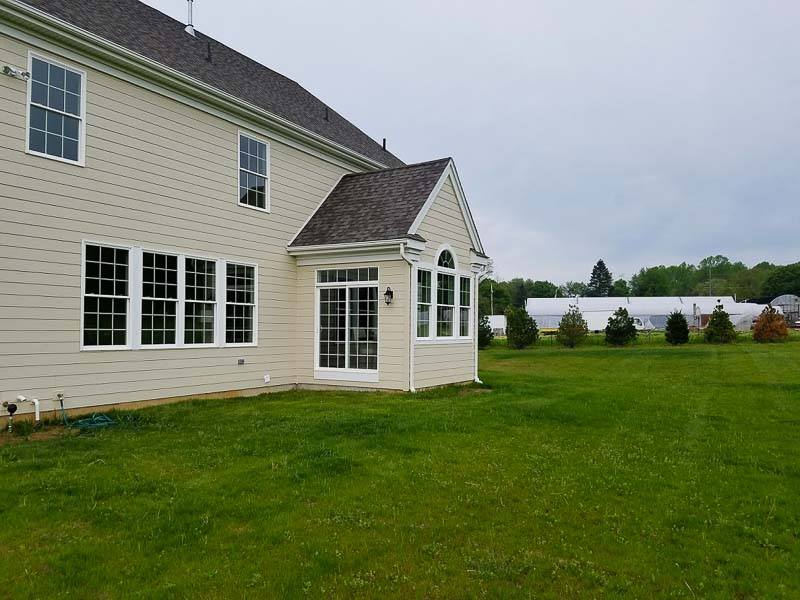 View Larger
Looking at this bare backyard view searching for inspiration. The client was new to the area and just settling on their new construction home in West Chester and needed KM Gardens to come up with a vision so they could enjoy their backyard living space for all seasons. We went back to the design desk after consulting with the client who gave us some general parameters for what features they wanted. A flagstone patio, pergola, fire pit, and water feature were all mentioned and then it was up to us to come up with a design from there.
Just completed plantings show an unbelievable transformation to this backyard dream come true. What was once a clean baron slate is now a wonderful place for the new West Chester family to enjoy. A natural bluestone flagstone patio with a fire pit, pergola, and water feature that's surrounded by native plants and low voltage lighting completes this new construction home.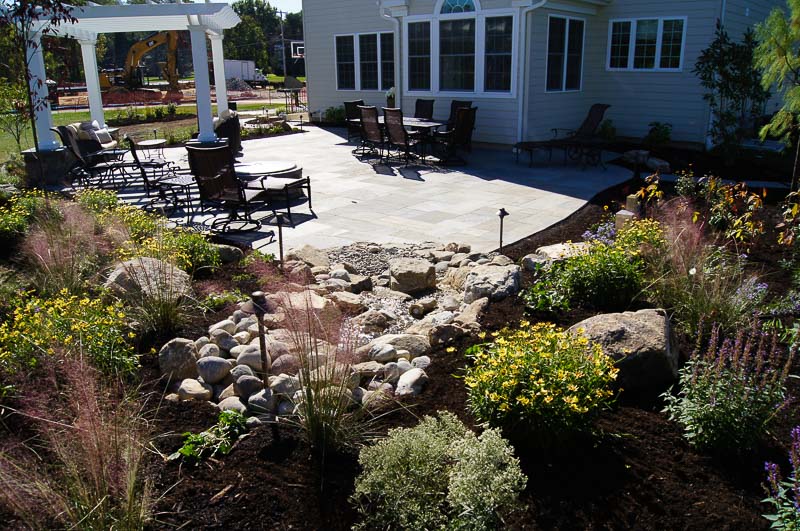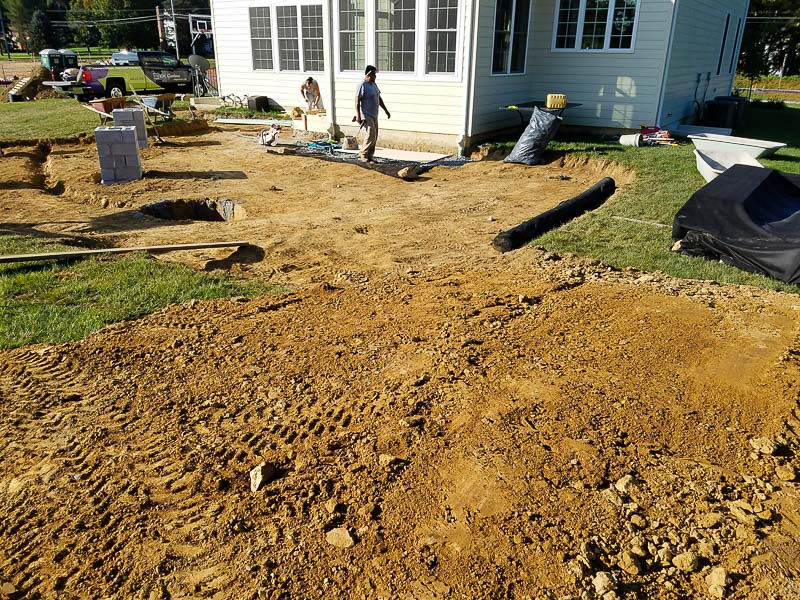 View Larger
Under construction! The transformation is well under way. Excavation of the patio and pond are complete. We are hard at work building pillars where the pergola will perch. Not as evident in the photo is the over dig stabilization performed. A new home's soil that was back filled against the foundation will continue to settle for several years. That is why when constructing a patio or steps against the foundation of a newer home we must remove all of that "loose" soil first. It's one of the extra steps KM Gardens takes to ensure longevity in our patios.
Not so noticeable in the photo to the far right is a rain garden. With so many new homes and so much development going on in Chester and neighboring counties a major challenge is what to do about water runoff. Townships are tasked with balancing between allowing residents to construct their dream outdoor living space and stormwater management needs. One of the best ways to tackle new impervious coverage drainage is to put in a rain garden. The native water loving plants are perfectly capable of rooting deep into the soil and sucking up all of that extra runoff created by new impervious coverage. Sure, we could dig a huge hole in the ground and fill it with stone to achieve similar results, but where's the beauty in that? Rain gardens are effective at their job of collecting all of that water and they're also beautiful. Why spend the money on a pit of stone that never will be seen when a rain garden adds to the beauty of a new patio and landscape at similar or less cost to the home owner?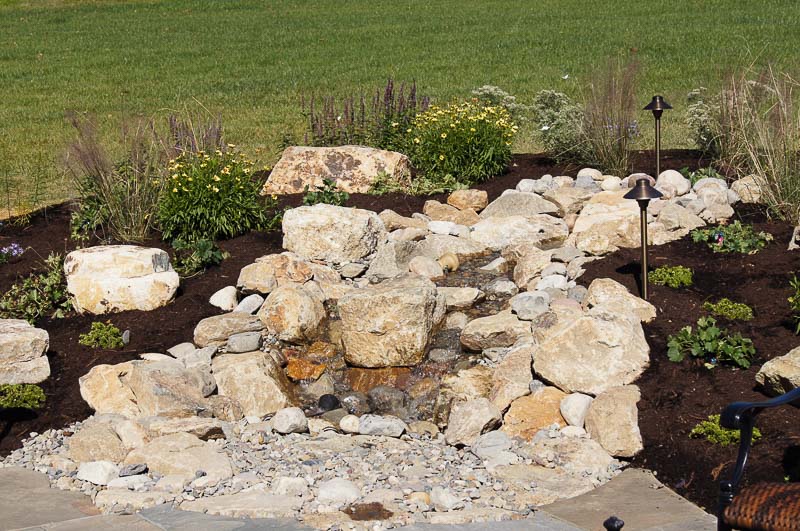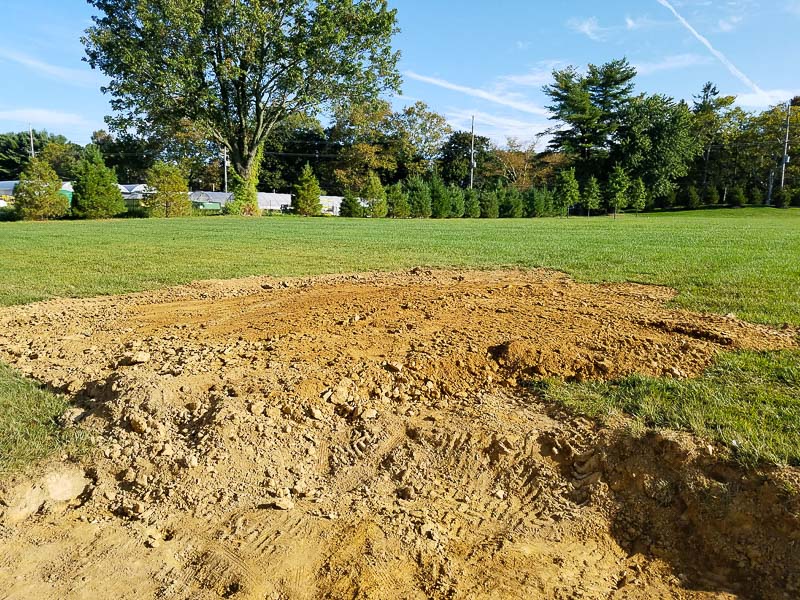 View Larger
There are many views to consider when designing a new project. The before pictures show the stark contrast of nothing going on here vs. the after photos of new life and new beginnings.
The pondless waterfall is a magnet for life. The flowing water and new native plantings will instantly attract birds, butterflies, and beneficial insects. The plants here were recently planted and will very quickly fill in those bare mulched areas. At night the stream is lit with low voltage lighting which highlights the glimmering water and natural stone.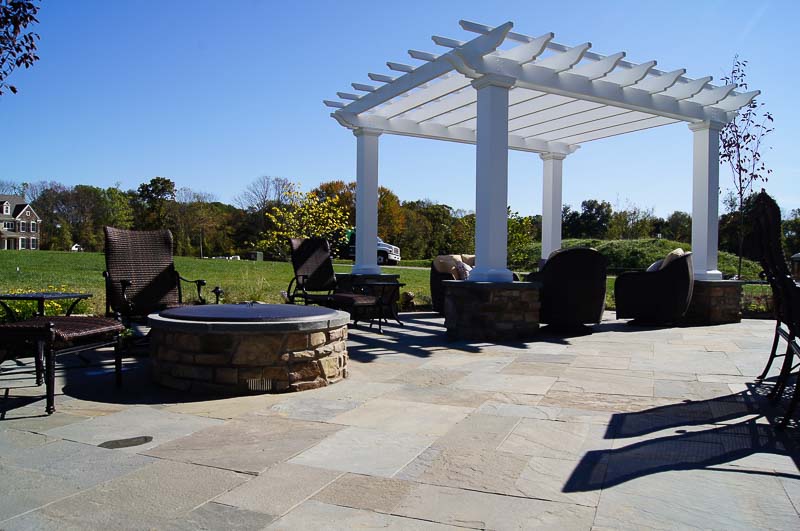 Pa bluestone flagstone is so versatile. It's range of colors and unique character match up with virtually any other stone which makes it one of the most popular natural flagstone patio materials. Here it surrounds a propane fueled fire pit and pillars which support an elegant fiberglass pergola. While the pergola itself does not provide a ton of shade it is an architectural element that adds style to this patio. A retractible shade can be added to the pergola for shelter from the strong afternoon sun.